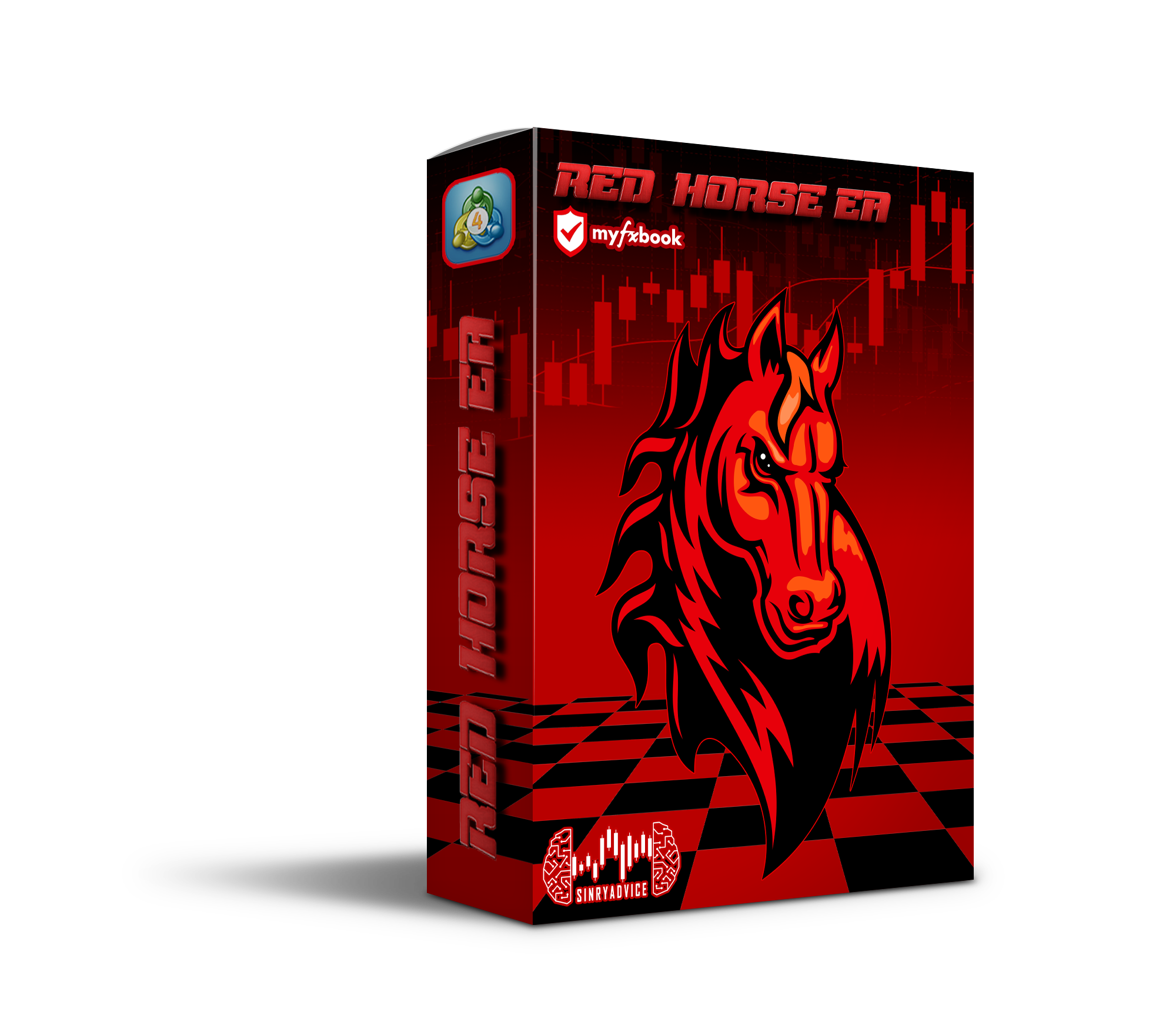 Red horse Manual Copier - Strategy IV
Red Horse is a gold Forex trading tool, developed by Sinry Advice. With a stable account growth
Red horse ( strategy IV) is not a robot!
14 Day refund policy if not profitable

Description
Red horse strategy Iv is a copier file where all trades are manually placed by our trading team with over 11 years of experience in forex, our traders will trade on the main account and all of our clients will get the same results.
Clients do not need to be worried about checking the news, turning on or off the system or etc, our team does that all, and our clients need only to do a 5-minute installation process to set up the file on their VPS.
Red Horse works on market price using a Top-bottom strategy and is volume and volatility based. Combined with an intelligent Signal the tool will place an order to buy or sell when signaled.
Red Horse does not rely on any type of time session and has multiple scalping systems that do 3 types of trading in one tool.

What's The Difference Between Red Horse Tool And Other Tools?
M

anual trades by a team of human traders

Over 1 year live result on myfxbook

Only for

XAUUSD

pair on Metatrader4

Over 4.0 rating on Trustpilot

24 hours public live stream on youtube

Risk free with 100% refund policy
Features
Ability to analyze

technical

and

fundamental

news

Customizable

News Filter
Only for

XAUUSD

pair on Metatrader4

Lot Management

Risk Management

2 Account license keys – 1 Real & 1 Demo (Only one account can be activated at a time)

Expected growth 5% – 18%
What are the requirements to use this EA?
Metatrader4 demo or live account – ECN or Standard acc type.

Minimum 300 USD (higher DD% is expected).
Recommended Settings:
Run it on

XAUUSD

Select 5 min time frame on your mt4.

Ensure the Auto trading option on your mt4 is on.

For the best performance you need to keep the tool always online by using a VPS (online computer host) or having your PC always online.

Do Not use a cent or mini account, please use Standard, ECN, etc

Account Leverage must be Above 1:500

Account spread must be below 2.0
Installation
1- Click on add to cart and complete the order process.
2- You will be directed to a download page, save the file in your pc.
3- Drag and drop the file in the Expert folder of your metatrader 4 app (you can download Metatrader 4 from your broker website or anywhere on the internet)
4- Email us your metatrader4 account numbers for activation. (live "or" demo account number) – [email protected]
5- Best setting is given as default just install and run ea.

Watch the video below for installation steps.
Does it have any guarantee?
Absolutely! Our goal is transparency with our high quality Forex trading tools.
Follow the given Settings for the tool.

Test it on a demo account for 14 days.

If in 14 days it makes weekly profit that means tool is working well.

If it's not profitable in 14 days, send us an Email a

nd apply for a 100% refund
Daily Live Result
To build trust and transparency we have opened a live account with a starting fund of —— where you can see all the trading performances, daily trades, profit and gains of Red Horse EA using Myfxbook.com
Red Horse Tool Live Stream
Red Horse's livestream has been set up to show transparency and help clients track their trades as they must have the exact same trades as us.
By setting up this livestream we are proud to be the first Forex trading tool company to provide a 24/7 trading stream, that both existing and new clients can use to see how Red Horse performs at anytime of day everyday.
Please note:

The Livestream is delayed by 30 minutes to ensure Red Horse's trades are not copied or misused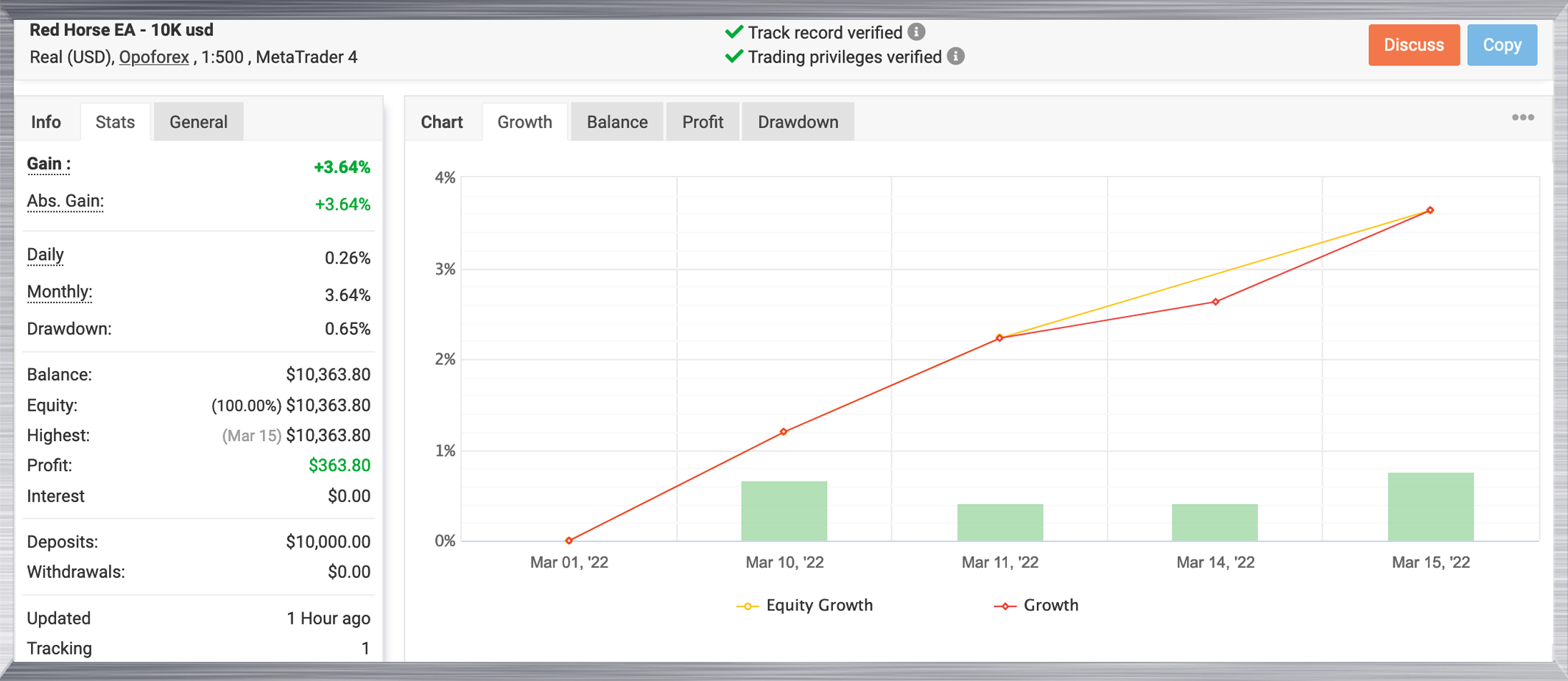 Note: Red Horse can not be backtested unfortunately due to fact that the tool signal only works on live market movement and not on historical chart data.
About us
We are Sinry Advice a full-time team of Forex traders and Forex tools developers. Like every trader we've had both good times and bad, we know just how hard it is to grow your portfolio especially if you are new to this market, this is why we have decided to work on building tools that will help traders to get started with trading.
Our Mission
Our Mission is to create a community based on transparency and legitimate result for our users. We at Sinry Advice will work hard to create the highest quality Forex trading tools and indicators for your trading journey.
BEST BROKER FOR AUTOMATED TRADING Tools?
As a EA developing company we have tested many brokers and have found that based on their high speed servers, low spreads which is the key in optimal tool performance and low commissions, OpoFinance has become the broker of our choice.
How do I install and does it open and close trades automatically?
Installation is simple and explained in a short video, once the installation is done the rest is fully automatic as the EA is smart and opens and closes trades in profit automatically.
Does it require a high level of expertise to use it?
No expertise is required to install and use this Forex trading robot because we have shown a step by step guide on how to use and setup the EA in a video which is on the product page of Red Horse EA.
Our EA's have inner indicators which analyze the different aspects of the market and places trades based on them, all trades are based on market evaluation. 
What if these Tools are not Profitable?
Our Forex trading tools come with given settings which have been tested and provide proven results therefore if the EA is not profitable after correct installation you may request for a  REFUND.
Each of our Forex Trading Robots come with their own drawdown limit however we also recommend all our clients to set their own Risk Management.
Do I need to check it every time and change settings?
Once you setup it up the first time, the rest will be fully automatic and you don't need to change or check anything. The EA will open and close trades in profit automatically.